You need to let your new deck dry out before it can be stained or sealed. If your deck was built in June, July, or August, the heat will likely dry it out well enough to stain in a matter of a few of weeks! If it was built in April or May then you should probably wait until mid-to-late June. Most any other time of year, you'll need to wait anywhere from a few months to 6 or 7 months.

For the stain to soak in, dry well and adhere to the wood properly, the temperature needs to not fall below 50° for about 72 hours. This means that even if your deck was built in March and you waited through the summer and until November to stain it, you may do well to continue to wait again until the next spring. Staining outdoor structures is mostly a seasonal thing. But one thing we know for sure about Arkansas is that the weather has a mind of it's own and you could get 2 weeks of perfect deck staining weather in December!
DIY?
If you're going to be doing the staining or sealing yourself, we have a few suggestions.

Keep in mind that we at Custom Deckworks are not the staining or painting professionals and that a true professional may advise you a little differently than we are here. But.... new treated pine lumber has a water seal already on it. You sould see the water bead up on your new deck. With the water seal on it and the chemicals in it, the lumber is already protected for years against rot and insect damage. But the lumber IS NOT protected from the UV rays of the sun! That's why it sure will help it to be stained with a quaility product - and one that has some color to it.

Putting more clear product on your deck is not helping it. A stain with some degree of color (doesn't have to be dark) will act like sunglasses and help protect your deck from drying out too far, or too fast, and from developing some of the small cracks & splits, and the turning grey, that make it look as if you built a driftwood deck.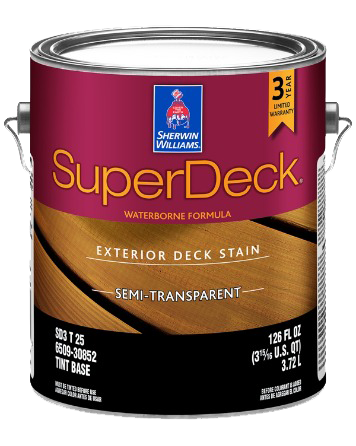 We've seen people have great success with Sherwin-Williams SuperDeck waterborne formula. It's almost always "on sale", but even if it's not and you can't wait, this is another one of those things that will hurt badly if you try to save a few bucks by getting a lesser product and it doesn't perform. And we personally recommend the waterbased (waterborne) formula because it's easy clean up and when it comes time to redo it (however many years down the line) it will be much easier. You'll only need to clean the deck (maybe light pressure washing), let it dry, and then restain with more waterbased stain. But if you use oil-based stain, then when it's time to redo it you'll have to get the old stain off with a chemical stripper before you can restain. And that extra step will take as much time and cost as the staining itself will, so it's basically double the time & money for something that may or may not last you another year.

But whatever you do, do NOT put any of that "Deck Coating" or "anti-slip, super-grip" stuff on your deck. Don't use anything that is super thick and solid. M&M's need a candy shell but natural wood deck boards don't! We've torn out so many decks that rotted from the inside due to being coated with that stuff. It allows the boards to soak up moisture from underneath but then won't let it evaporate out, so the inside of the board stays wet and rots. And then you don't know it's rotting until you step on it and your leg goes through the board. Remember..... A wise man once said, "Just because someone invented something, doesn't mean it's worth using."